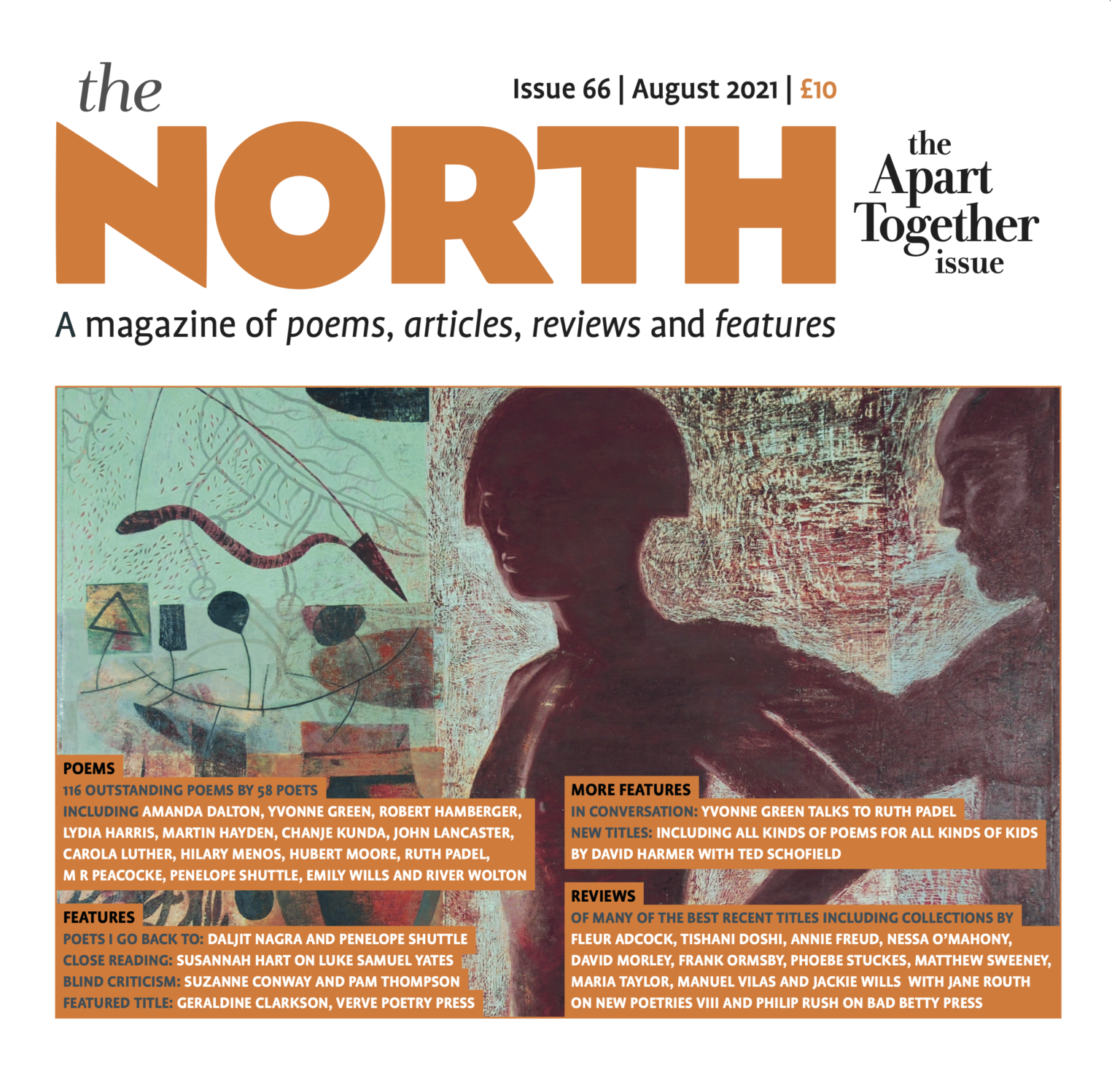 Nessa O'Mahony's, The Hollow Woman on the Island is a beautifully rich collection from a mature poet, where the Grim Reaper's ugly presence is compensated for with celebratory elegies for friends and relatives, as well as a highly nuanced journeying through her own cancer treatment. The contemporary relevance of the Easter Rising's centenary is also very much in evidence. Throughout, her technically adept poems call on her readers – in E M Forster's words – 'only to connect' as she juxtaposes physical and psychological states, both to share her intimate, sensuous engagement with the landscape, and make clear how Ireland's tragic past still impacts on the present.
Thus, she opens: 'Each decade found its own vortex / of imps straddling chests, white mares snorting' ('Bogeyman') with seemingly disparate moments taking us from childhood to darker adult fears. Roger Casement's reinterment in 1965 telescopes down to the cancer ward's waiting room painted with an oh-so familiar shock of recognition: 'a dead celebrity waving from the cover of an old Hello, / a raised bump beneath skin, a white-draped man / scanning penumbras on illuminated screens'. The temporospatial shifts in the 1916 reenactment of 'O'Leary's Grave' is both playful and dark, noting how, 'They'll get it in higher definition / this time', given the public's initial disdain for the event, followed by a dig at de Valera's less than glorious role during the week itself: 'photoshop Dev in / if the direc- tor requires', concluding with an echoing of Yeats' '1913':
'Romantic Ireland's dead and gone / it's with O'Leary in the grave' as a shift from 1916's Irish Catholics to 2016's Dublin drug addicts as the new dispossessed: 'Zoom in to Romantic Ireland / blue-inked on his wrist'. She also takes us into the vexed issue of Irish World War One veterans who were at worst vilified and at best ignored,
Throughout, her technically adept poems call on her readers – in E M Forster's words –
'only to connect' as she juxtaposes physical and psychological states …
delicately touched upon by juxtaposing her visit to the 1916's leader Pádraig Pearse's old experimental school of St Enda's with her mother's one to the French war grave of a relative who died in the final months of the war: 'We shall not forget, how could we? / Shared genes give the same nose, / domed head, the pale blue eyes
…' ('Age Shall Not Weary Them').
She draws on her meticulous passion for landscape
and wildlife to celebrate and lament. Ireland's tragic past – its famine, poverty, repression, stagnation and necessary emigration – haunts the collection. Unmarked graves are the living reminder of all that past as in this lovely spare poem taking us into the bleakness of that blank terrain:
The grass grows the same here: the odd blown-in
pollinated by cloven hooves. We keep our mouths shut, look the other way
('Folk Memory')
The land is also remote and unforgiving: '… memories of going Winter-mad // … Black dog, black moods, black God' ('"In Ainm Croim"'), yet also a source of simple pleasure as we see her debunking the recent emphasis on STEM subjects by noting the poetry within science:
'Dreamers gave us mother of pearl / and you know what trouble / dreams got us into' ('From a Beachcomber's Manual'). Certainly she, herself, observes that natural world with the scientist's eye, along with environmen- tal concerns: 'like the names of things / we knew only yesterday' ('Absence'); her microscopic observation, 'one downpour / would tear those skirts / trample the soil / with petals' ('A Poppy for Aiofe'), always the patient nature watcher: 'I stand and watch droplets lined up as if waiting for something … They outstare the watcher: I move on' ('April Hawthorn').
And all the while, death walks the collection. Elegies come thick and fast: 'we've stalked death', 'Another bell: / and I know / for whom it tolled, old friend' ('Do not Ask') along with her sequence on her own brush
with cancer. Here, with its mild echoes of Plath's water imagery in 'Tulips' (Ariel) – she really blows us away with an extended stone and water metaphor (the gravestone reference, perhaps, a step too far) to unpick the impact of a life-threatening illness versus writing as a gift against that dark:
Edges rounded off
by the water's oscillation
till she's smooth, buffed
into ovoid shape,
tide-tossed onto damp sand, to be plucked up,
pocketed, placed with care on a mantle-piece, a grave-top.
('The Hollow Woman on the Island')
Trace your truth
with a thumb, a tongue, an index finger,
a thought,
a scratch on paper.
('The Hollow Woman at Bohea')